Pre-Civil War Quilts: Secret Codes to Freedom on the Underground Railroad
Pre-Civil War Quilts: Secret Codes to Freedom on the Underground Railroad
This historical presentation, "Pre-Civil War Quilts: Secret Codes to Freedom on the Underground Railroad™", presented by Connie Martin, is a virtual experience combining a lecture with over a dozen beautifully hand-crafted code quilt replicas.
Using images representing code quilt patterns and special stitching used over 300 years ago by abolitionists and fugitive slaves to signify escape routes to the North, Connie, a 6th generation descendant of captured slaves, tells her ancestors' fascinating story.
Based upon Connie's mother's book Lizzie's Story: A Slave Family's Journey to Freedom Connie shoes how these quilt codes were used by her ancestors, the code's meanings and interpretations, and how they have been passed down to her.
"Sometimes a quilt is just a quilt, other times it had hidden messages that helped fugitive slaves escape to freedom." -Connie Martin, MA.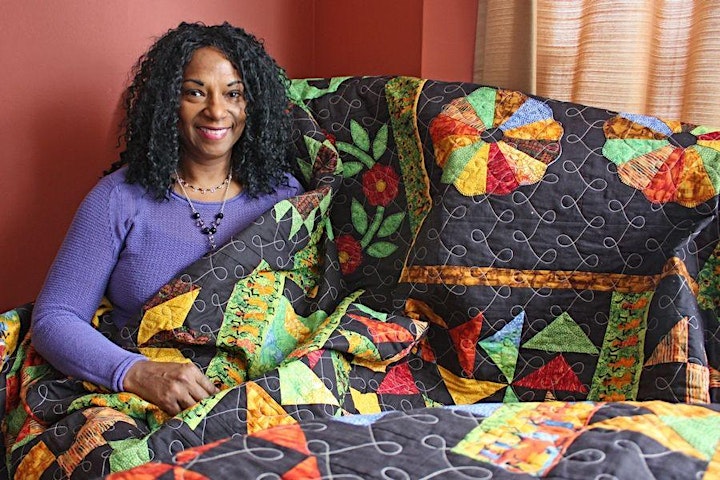 Bio:
Connie earned a BA From Illinois State University, and an MA from Aurora University with a Thesis in Integrating African American History Lessons in educational curriculums. A retired Language Arts teacher, M.O.V.E. international fitness convention co-owner, fitness convention Presenter, a 33-year Star fitness instructor, and mother of three sons; she finds joy in telling the secret codes and hidden messages in the family quilts her ancestors shared on the Underground Railroad. Connie mesmerizingly holds her audience's attention just as her mother did presenting this family presentation for many years. She tells the history of the Underground Railroad, safe routes, and the stories of how the quilt codes, their meanings, and interpretations that have been passed down to her, a sixth generation descendant of captured African slaves forced into slavery in America.
This event is being produced by Sycamore Library in partnership with Illinois Humanities. The Illinois Humanities Road Scholars Speakers Bureau invites Illinois authors, artists, & educators to share their expertise & enthusiasm with people throughout the state, enabling local nonprofit organizations to present free-admission cultural programs of high quality to their communities for a modest fee