Alzheimer's Assoc.: Understanding & Responding to Dementia-Related Behavior
November 9, 2022 @ 6:00 pm

-

7:30 pm
Understanding and Responding to Dementia-Related behavior and Author Dr. Elizabeth Shulman.
Behavior is a powerful form of communication and is one of the primary ways for people with dementia to communicate their needs and feelings as the ability to use language is lost. However, some behaviors can present real challenges for caregivers to manage. Join us to learn to decode behavioral messages, identify common behavior triggers, and learn strategies to help intervene with some of the most common behavioral challenges of Alzheimer's disease.
Join us for a conversation with Elizabeth Shulman, author of "Finding Sanctuary in the Midst of Alzheimer's – A Spiritual Guide for Families Facing Dementia". We will briefly discuss reframing solutions and seeking help from "above". Elizabeth Shulman has over 30 years of experience as a pastor, university researcher, and hospice chaplain. Dr. Shulman knows the stress and struggle of caregiving and will help us focus on finding meaning in our challenging role.
We will be giving away copies of Dr. Shulman's book to some attendees and the program will conclude with a live special question and answer session.
Register on Eventbrite or call x 410.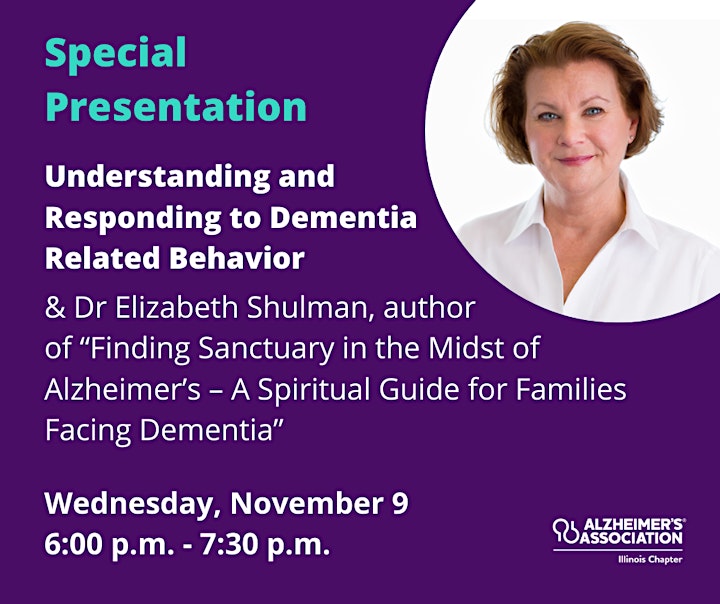 Related Events